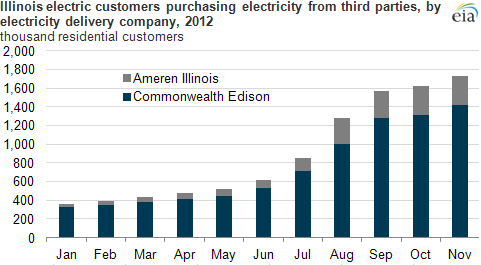 Source: U.S. Energy Information Administration, Monthly Electric Utility Sales and Revenue Report with State Distributions (Form EIA-826).
BY THOMAS MULHOLLAND
The EIA posted this great graphic on its website yesterday showing the share of the Illinois residential market captured by various suppliers since aggregation began in 2012. It shows that aggregation is a hit in Illinois. Here are some other insights.Each residential "Customer" on the chart is about 2.5 people…there are about 4.5 million residential customers overall; about 1/3 have moved to market-based supply via aggregation. Most of those moved after ballot initiatives in the first half of 2012. A second ballot held in the fall will likely move another 1.5 million customers to aggregation by mid-2013, meaning market-based suppliers will then serve about 2/3 of Illinois' residents.
Six suppliers carved up roughly 85% of the market. Four of the suppliers are relatively large national companies, showing that there are some significant barriers to new market entrants. In our experience with these four, we have found them competitive and relatively credit worthy.
Ameren Energy Marketing (now Homefield Energy) has about 200,000 customers; if trends continue, they should end up with around 400,000 customers, or roughly 10% market share. Reading the tea leaves, it's not a stretch to say that Homefield's inability to hold on to a significant share of the competitive Illinois marketplace contributed to their decision to write-down the majority of their merchant generation assets.
So far so good—customers are seeing lower prices—and everyone is still in the "wild enthusiasm" stage of the market. Some risks remain:
The cities executed contracts with block structures, leaving risk in imbalance energy settlement. They would be wise to consider more innovative approaches.
Contracts are relatively short-term. Cities representing aggregation customers must stay abreast of market prices to extend contract terms so that customers don't get unexpected price hikes. Price volatility is currently pretty tame, but there's no guarantee it will remain so.
A number of the cities bundled "renewable energy" into the electricity supply deals. It's arguable if residential customers understand that RECs are not exactly the same thing as renewable electricity supplied directly from the source. Cities have a number of alternative approaches they can use to meet the needs of a green-minded constituency while mitigating potentially troublesome risks.
Roughly 15% of the market is held by small suppliers. Aggregation could suffer a significant black eye if these suppliers default, throwing them back to the supplier of last resort.
The thing that jumped out at us the most was the lack of integration between aggregation transactions and other needs customers express that we identified in our research. Examples include efficiency, renewables, low-income assistance, and integration into community-based energy-related project development. We hope that city leaders will begin to look for opportunities to meet more customers needs than just price discounts.